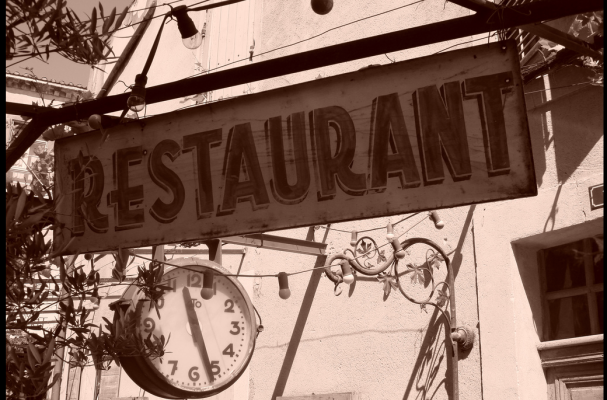 Celebrity sightings are one of the ways restaurants keep you coming back for more. While money may be no object for celebrities, you'll be surprised that a lot of their top spots are casual eateries (although there some pricey restaurants that make the list too). Urbanspoon compiled a list with user data outlining celebrities favorite restaurants in major cities across America.
Atlanta
1. Watershed: Jennifer Lawrence, Reese Witherspoon, Colin Firth
2. Pappadeaux Seafood Kitchen: Jay-Z, Beyoncé, Drake
3. Antico Pizza Napoletana: Drew Barrymore, Conan O'Brien, Tom Brady, Steve Carell
4. South City Kitchen: Will Ferrell, Jon Hamm, Cameron Diaz, Ben Affleck
Boston
1. Sonsie: Katie Holmes, Tom Brady, Gisele Bündchen, Jon Hamm
2. Stephanie's on Newbury (also made previous list): Jennifer Lopez
Charleston
1. Poogan's Porch: Amanda Seyfried, Calvin Klein, Justin Long, Bette Midler
Chicago
1. Paris Club Bistro & Bar: Lady Gaga, Bill Murray, Drake, Matthew Perry, Michael Bay
2. RPM Italian: Zac Efron, Vince Vaughn, Lady Gaga, Jane Lynch
3. Chicago Cut Steakhouse: President Barack Obama, Robin Thicke, Lupe Fiasco, Derek Jeter
4. prasino: Ashton Kutcher, Mila Kunis, Kristin Cavallari, Jay Cutler
Las Vegas
1. Andrea's: George Clooney, Lady Gaga, Deadmau5, Kate Upton
2. CUT: Blake Shelton, Leonardo DiCaprio, Tom Hanks
3. LAVO: David Spade, Madonna, Katy Perry
4. N9NE Steakhouse at The Palms (also made previous list): Matthew Perry, Robin Thicke, Adam Levine
5. Hakkasan: Anna Kendrick, Jessica Alba, Kesha, Kelsey Grammer
6. CRUSH eat, drink, love: Jewel, Joe Jonas, Brad Garrett, George Strait
Los Angeles
1. Café Gratitude: Kerry Washington, Jay-Z, Beyoncé, Rashida Jones, Jake Gyllenhaal, Connie Britton
2. Il Ristorante di Giorgio Baldi: Rihanna, Drake, Mila Kunis, Ashton Kutcher, Lindsay Lohan
3. Craig's: Jake Gyllenhaal, Hugh Jackman, Timbaland, T.I., Rebel Wilson, Harry Styles
4. Umami Burger: Emma Roberts, Wiz Khalifa, Blake Lively
5. STK: Sofía Vergara, Wiz Khalifa, Chelsea Handler, Zac Efron, Kim Kardashian
6. Chateau Marmont (also made previous list): Lady Gaga, Katy Perry, John Mayer
7. FIG & OLIVE: Amanda Seyfried, Robert Downey Jr., Halle Berry, Johnny Depp, Jennifer Aniston, Elizabeth Banks, Ryan Gosling, Bob Saget, Sir Paul McCartney, Bruce Springsteen
8. BOA Steakhouse: Nicki Minaj, Selena Gomez, Sofía Vergara, Alessandra Ambrosio, Olivia Wilde
9. Toscana: Heidi Klum, Christina Aguilera, Tom Cruise, Eva Longoria
10. The Church Key: Christina Hendricks, Khloe Kardashian, LL Cool J
11. Casa Vega: Mila Kunis, Miley Cyrus, Selena Gomez, Nicole Richie, Avril Lavigne
12. Crustacean: Barbra Streisand, Nicki Minaj, Josh Duhamel
13. La Poubelle Bistro & Bar: Amanda Seyfried, Justin Long, Mila Kunis, Ashton Kutcher
14. The Ivy (also made previous list): Justin Bieber, Reese Witherspoon, Kim Kardashian
Miami
1. Cavalli Restaurant & Lounge: Justin Bieber, David Beckham, Chris Brown
2. The Forge: Jessica Biel, Justin Timberlake, Gabourey Sidibe
3. Cecconi's: Miley Cyrus, Leonardo DiCaprio, Jay-Z
4. Casa Tua (also made previous list): Katy Perry, Jay-Z
5. Seasalt and Pepper: Beyoncé, Adriana Lima, David Beckham, Gloria Estefan
New York City
1. Bacaro: Jennifer Lawrence, Katy Perry, Russell Brand
2. Sons of Essex: Drake, Rihanna, Justin Bieber, Jason Segal
3. Philippe: Rihanna, Steven Tyler
4. The Stanton Social: Nicolas Cage, Carly Rae Jepsen, Robert Pattinson
5. The Sea Fire Grill: Emma Roberts, Jesse Tyler Ferguson, Darren Criss, T.I.
6. The Spotted Pig (also made previous list): Jay-Z, Bono, Jake Gyllenhaal, LeBron James
7. Melba's: Katy Perry, Prince, Ashton Kutcher
8. Red Rooster: Clive Davis, Denzel Washington, Neil Patrick Harris, Katie Holmes
9. Antica Pesa: Morgan Freeman, Julianne Moore, Madonna, Tom Hardy
Washington, D.C.
1. Blue Duck Tavern: Michelle Obama, Joel McHale, Jesse Tyler Ferguson
2. Bibiana: Claire Danes, Kevin Jonas, Michael Douglas
3. Cafe Milano: Kobe Bryant, Ludacris, Hillary Clinton
4. Bourbon Steak: Rob Lowe, Owen Wilson, Adam Levine
5. Fiola: Jennifer Aniston, Katherine Heigl, Chris Christie
Image Sources: