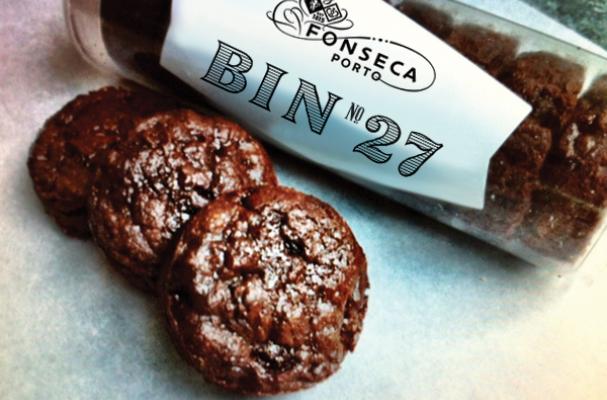 Today is National Brownie Day and we're celebrating with this boozy brownie recipe from master baker Dorie Greenspan. Her decadently rich Broundies (named so because they are baked up round) are made with Fonseca BIN 27 Port and are perfect for the holiday season. Enjoy them dunked into a glass of port!
Fonseca BIN 27 BROUNDIES
Courtesy of Dorie Greenspan
Yields about 24 Broundies
For the filling:
2 tablespoons Fonseca BIN 27 Port
2 tablespoons water
1 cup dried cherries, coarsely chopped

For the Broundie base:
5 tablespoons unsalted butter, cut into pieces
10 ounces semi- or bittersweet chocolate (divided), finely chopped
¾ cup sugar
2 large eggs, cold
½ teaspoon fine sea salt
¼ teaspoon freshly ground black pepper
⅓ cup all-purpose flour

Position the racks to divide the oven into thirds and preheat the oven to 325 degrees F. Butter 2 muffin tins, dust the interiors with flour and tap out the excess, or use a baking spray.

Bring the Fonseca BIN 27 Port and water to a boil, reduce the heat to low, add the cherries and stir until the liquid evaporates. Turn the fruit into a bowl; cool.

Put the butter in a heatproof bowl over a saucepan of simmering water; top with 6 ounces of the chopped chocolate. Heat, stirring, until melted – you'll have a thick, shiny mixture.

Remove the bowl from the saucepan and beat in the sugar (the mixture will turn grainy – don't worry). One by one, beat in the cold eggs followed by the salt and pepper. Give the mix a few strong stirs, then gently stir in the flour. Add the cherries (and any liquid in the bowl) and the remaining chopped chocolate. Divide the batter evenly among the muffin tins.
Bake the Fonseca BIN 27 Broundies for about 20 minutes, or until the tops are uniformly dull; a toothpick inserted into the centers will come out clean. Cool the Broundies to room temperature in the tins and then unmold them.

Storage Instructions:
Well wrapped, the Fonseca BIN 27 Broundies will keep for 4 days at room temperature and for 2 months in the freezer.