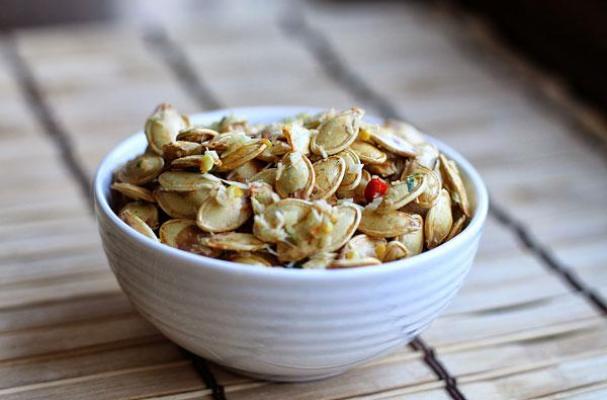 There's a whole new way to roast your leftover pumpkin seeds: coated with exotic Thai spices and spicy chili! These Thai spiced pepitas from Simple Comfort Food are a must-have at any fall get-together.
Thai Style Roasted Pumpkin Seeds
Courtesy of Simple Comfort Food
Ingredients:
Seeds from one medium sized pumpkin, pulp removed
2 tbsp unsalted butter
1/4 tsp salt, or more to your taste
1/2 tbsp lemongrass, minced
1 whole Thai chili, minced, seeds removed (optional)
1 kaffir lime leaf, minced
Start by rinsing your seeds, making sure any of the pulp is removed. Lay the seeds onto a towel to remove any access moisture.
In the meantime, melt the butter and add it to a mixing bowl. Add in the seeds, the salt, and the Thai chili, kaffir lime leaves, and lemongrass.
Give a good stir. Preheat your oven to 350 degrees.
Line a baking sheet with parchment paper. Add the pumpkin seeds to the baking sheet, laying the seeds evenly on the sheet.
Add the seeds to the preheated oven, and cook for about 15 minutes, then remove, toss them around, lay them even again, and roast for another 10-15 minutes, or until they are fully roasted.
Once cooked, pick up the parchment paper and slide the seeds into your serving bowl.
Image Sources:
Categories: