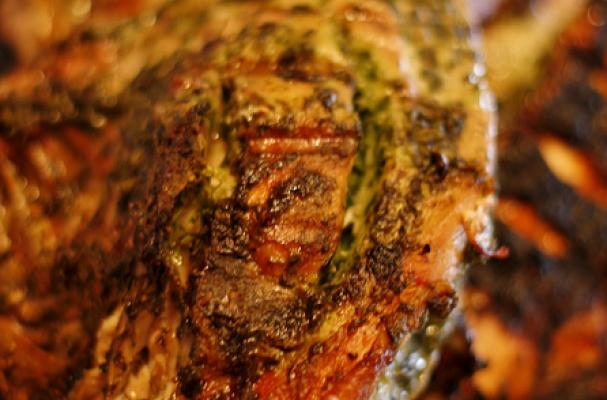 Grilled pesto chicken will be a definite winner at your Labor Day barbecue. Boneless, skinless chicken breasts are stuffed with fresh pesto and cooked on the grill. You can either make your own pesto or use store-bought for this recipe. Grilled pesto chicken pairs perfectly with a simple pasta dish of cheese and tomatoes and grilled vegetables.
Ingredients:
2 garlic cloves
1 teaspoon salt
2 cups fresh basil leaves - (tightly packed)
2 tablespoons pine nuts finely chopped
1/2 cup olive oil
1/2 cup grated parmesan cheese
2 tablespoons grated romano cheese
4 tablespoons butter softened
2 boneless skinless chicken breasts (abt 6 to 7 oz ea)
Olive oil as needed
Salt to taste
Freshly-ground black pepper to taste
Directions:
For the Pesto: In a food processor or blender, put the garlic, salt, basil, pine nuts, and olive oil and process until smooth. Add the cheeses and the butter and process very briefly, just to incorporate them. If the sauce is a little thick, add a little water a tablespoon at a time and process for 1 to 2 seconds. Sauce should be thick, but spreadable.
Lay the chicken breasts out on a cutting board or other work surface. Using a sharp knife, slice the breasts longitudinally, but do not cut all the way through them - you want to make a kind of pocket in them.
Place several teaspoons of the pesto sauce into the chicken "pocket", and make sure it is spread across the entire interior surface. Fold the top half back over the pesto. Rub the outer surface of the breasts with the olive oil, then season to taste with the salt and pepper.
Place the breasts on a pre-heated BBQ grill and cook until done. If you'd like, you can spread a little of the pesto on the outside of the breasts a minute or two before they are done, just to form a slight crust on the outside. Serve with extra pesto on the side.
This recipe yields 2 servings.
Image Sources: