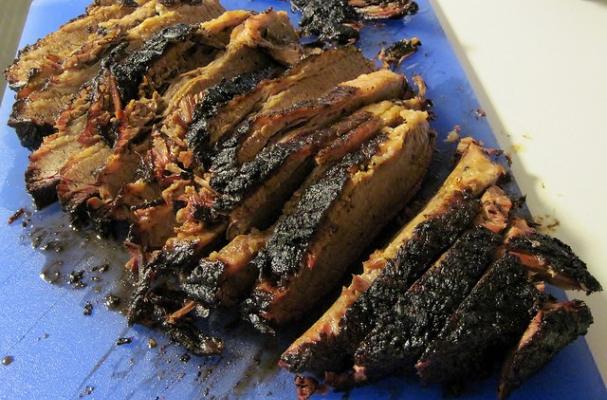 Passover is only a week away and this brisket should definitely be on the menu. This cut of meat is perfect for cooking low and slow and the recipe can be made up to a day in advance. The brisket is studded with garlic cloves and covered with onions while it bakes in the oven. After a couple of hours, remove the brisket and let is rest for at least 15 minutes before slicing. Don't forget to turn those delicious pan drippings into a luxurious gravy. Your juicy brisket is going to be the star at your Passover dinner.
Ingredients:
2 teaspoons Emeril"s Original Essence see * Note
Directions:
Preheat oven
to 500 degrees. Using a
paring
knife and your finger,
stuff
brisket all over with garlic. Place brisket in a
baking
dish
or casserole and
bake
until
browned
on
top
, remove from oven,
turn
brisket and return to oven until
browned
on both sides.
Reduce
oven temperature to 350 degrees. Add enough beef stock to casserole to come up 1 inch on sides, cover with foil and
bake
one hour.
While brisket is cooking,
heat
a large
skillet
over medium-high
heat
and saute onions in vegetable oil,
stirring
occasionally, until
caramelized
and most liquid has evaporated, about 20 minutes. Set aside.
Remove brisket from oven after one hour and add
caramelized
onions and all remaining ingredients, moving meat around to combine ingredients. Cover and continue to
bake
until very tender but not falling apart, another 2 to 3 hours.
Comments: Brisket is better if made a day in advance.
Image Sources: