Thanksgiving is perhaps the year's most involved dinner to cook. We love the time spent in the kitchen with all the festive aromas wafting in the air, but we don't want to miss all the fun with our family either! Each year we try to keep the sides simple, yet delicious. An easy side dish doesn't always translate into lack of flavor! I love Julia Child's Buttered Peas With Mint and it's an easy yet elegant dish that takes a mere flick of the wrist to prepare. To me, the best dish on the Thanksgiving table is the stuffing, preferably a moist and savory one like this Buttermilk Cornbread and Sage Stuffing, but I also love a sausage stuffing that's both savory and sweet-tart like this Apple, Cranberry, and Sausage Stuffing recipe. In lieu of mashed potatoes, try this delicious Potato and Leek Gratin, and my Balsamic Roasted Vegetables - a colorful variety of root vegetables - are always a crowd-pleaser. About 3 days before the big day I make a double batch of my mom's No-Cook Cranberry Orange Relish. Start on it early to allow the flavors to meld and double the batch because you'll want more for leftovers!
Looking for more? Check out our 10 Easy Holiday Appetizer Recipes. Find gluten-free holiday recipes here, and browse our editors' Thanksgiving picks here. Read on for more Thanksgiving menu ideas.
I love to use the brightest root vegetables I can find for this dish like red and golden beets, kabocha squash, red onions, and more. Add your own favorites as you can't go wrong!
Roasted Brussels Sprouts with Garlic
Photo: mkosut
Roasting Brussels sprouts all but eliminates that notorious bitter taste. Roasted garlic, which become sweet, is added to this side dish along with Balsamic vinegar. I think a bit of bacon would be lovely, too!
Pecan Topped Sweet Potato Casserole
Photo: mroach
The topping of this sweet potato casserole is a heavenly mixture of butter, pecans, cinnamon, ginger, nutmeg, and black pepper. Now I think that surely beats plain old marshmallows!
No-Cook Cranberry Orange Relish
This literally takes about 3 minutes to make. I toss everything in the food processor, pulse until coarse, then pop it in the fridge to rest for 3 days. You don't get any easier than that!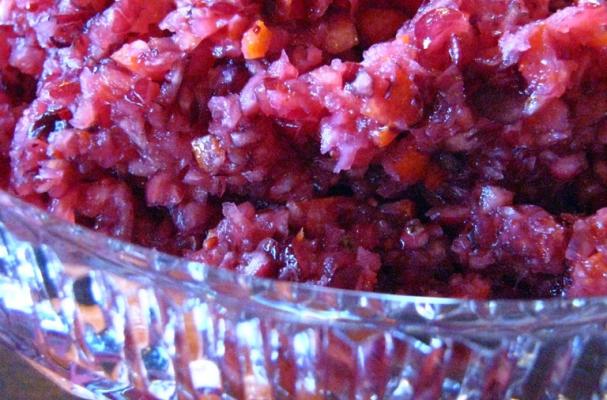 Three ingredients - spinach, cottage cheese, and Parmesan cheese - are all you need to make this super easy side dish (well, salt and pepper too). We make it year-round it's so good and so easy.
Julia Child's Buttered Peas With Mint
For best results, buy a good quality European butter such as Plugra or Kerrygold or one from your farmer's market. The flavor a good butter is hard to beat and will elevate your dish.
Potato and Leek Gratin
Photo: tristanf
Leeks, buttery potatoes, cream, Gruyere cheese, fresh thyme, and seasonings come together so beautifully in the gratin. It's a dish that's sure to become a favorite.
Buttermilk Mashed Potatoes
Photo: Candace Wafford
Some of the best dishes are those that contain few but good ingredients. Potatoes, buttermilk, milk and good quality butter is all you need for stand-out mashed potatoes!
Easy Delicious Pan Gravy
Photo: Special*Dark
Whisking a bit of dry sherry into your pan drippings will take your gravy from ho-hum to wowzer! Add a bit of fresh thyme too.
Buttermilk Cornbread and Sage Stuffing
Photo: Maggie Hoffman
I've made this classic sage stuffing recipe numerous times, not just on Thanksgiving, and it's always a crowd-pleaser! Sometimes I add a bit of turkey sausage and/or apples, but that's up to you.