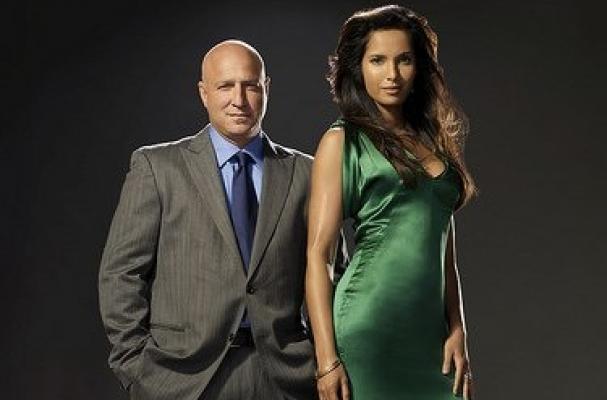 The 9th season of Emmy-winning Top Chef will premiere on Bravo November 2. Along with that news, the show released the names of 29 Top Chef "hopefuls." Those contestants will be narrowed down to the 16 chefs who will compete across Texas for the title.
Here's the list of the hopeful cheftestants:
Any favorites?
- Nyesha Arrington, 28 – Los Angeles, Calif., Wilshire Restaurant.
- Lindsay Autry, 29 – West Palm Beach, Fla., Omphoy Ocean Resort &Michelle Bernstein
- Jonathan Baltazar, 36 – Long Beach, Calif., Heights Cuisine.
- Ty-Lör Boring, 34 – Brooklyn, N.Y., Spasso
- Molly Brandt, 30 – Hollywood, Fla., Allure of the Seas for Royal Caribbean
- Chaz Brown, 29 – New York, N.Y., Fatty Crab
- Kimberly Calichio, 27 – New York, N.Y., Fishtail by David Burke
- Beverly Kim, 31 – Chicago, Ill., Aria Restaurant
- Chris Crary, 29 – Los Angeles, Calif., Whist Restaurant in the Viceroy Hotel
- Andrew Curren, 32 – Austin, Texas , 24 Diner
- Berenice deAraujo, 33 – Miami, Fla., Sra. Martinez
- Janine Falvo, 37 – Atlanta, Ga., Briza Restaurant
- Richie Farina, 28 – Chicago, Ill., MOTO
- Sarah Grueneberg, 29 – Chicago, Ill., Spiaggia
- Chris Jones, 30 – Chicago, Ill., MOTO
- Edward Lee, 38 – Louisville, Ky., 610 Magnolia
- Whitney Otawka, 30 – Cumberland Island, Ga., Greyfield Inn
- Simon Pantet, 30 – Seattle, Wash., Twenty-Two Doors
- Colin Patterson, 37 – Seattle, Wash., Sutra
- Laurent Quenioux, 51 – Los Angeles, Calif., Vertical Wine Bistro
- Paul Qui, 30 – Austin, Texas, Uchiko Restaurant
- Keith Rhodes, 39 – Wilmington, N.C., Catch Restaurants
- Grayson Schmitz, 27 – New York, N.Y., Exec. Chef
- Tyler Stone, 22 – Sacramento, Calif., Personal Chef
- Heather Terhune, 39 – Chicago, Ill., Sable Kitchen and Bar
- Chuy Valencia, 25 – Chicago, Ill., Chilam Bilam
- Nina Vicente, 29 – Seattle, Wash., Spur Gastropub
- Ashley Villaluz, 25 – Seattle, Wash., Sous Chef
- Dakota Weiss , 35 – Los Angeles, Calif., 9:30 Restaurant and The Backyard
Image Sources: