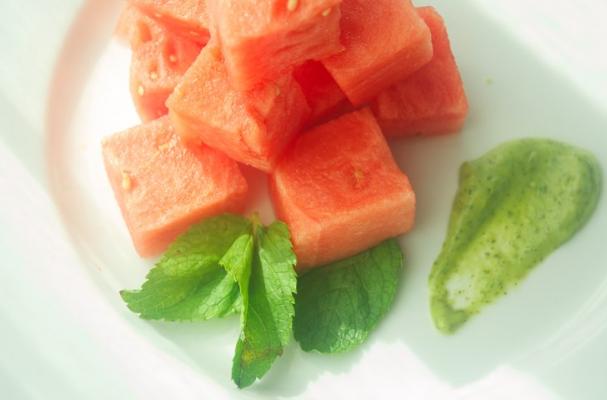 If you're like me and can't eat enough watermelon this summer, give this Simple Watermelon Salad Recipe a try.
Though ridiculously simple, this watermelon salad has been my favorite breakfast so far this week. I make it by combining just a few cubes of watermelon with a creamy mint sauce. There's something about juicy watermelon that is just so refreshing.
Simple Watermelon Salad Recipe
Serving Size: 1 (~250 calories)
2 cups fresh watermelon, cubed
1/2 avocado, peeled and pitted
1 tablespoon fresh mint leaves + some for garnish
1 teaspoon honey
Splash of water
First combine avocado, mint leaves and honey into a food processor with a splash of water. Pulse until creamy and well combined. Add more water if necessary. Set creamy mint sauce aside.
Place cubes of watermelon on a plate, drizzle with creamy mint sauce. Garnish with a touch of mint, if desired. Enjoy!
Learn more about the better-for-you ingredients in this recipe:
Watermelon
Watermelon is a high-water-content fruit rich in beta-carotene, vitamin C, potassium and magnesium. It is one of the most easy to digest foods, which allows your body's energy to more quickly return to its housecleaning work.
Avocados
Good quality fats (including Avocados, "cloudy" extra virgin olive oil and coconuts), enjoyed in moderation, will actually store in the body as energy and not fat which helps you lose weight in the long run.